Workshops are organised on weekly base.  We organise them in our store.
In a 3-hours workshop Fabienne Vandervaeren (Authorized Instructor Swarovski Create-Your-Style) assists each participant individually to learn you the skills and make your work into a trending jewel.
Workshops are not organised in a fix theme. So each participant can make some creation according to your taste and budget.  You can choose among many creations from our store or, suggest your proper idea or creation.
Every Thursday, Friday and Saturday from 10.30h till 13.30h.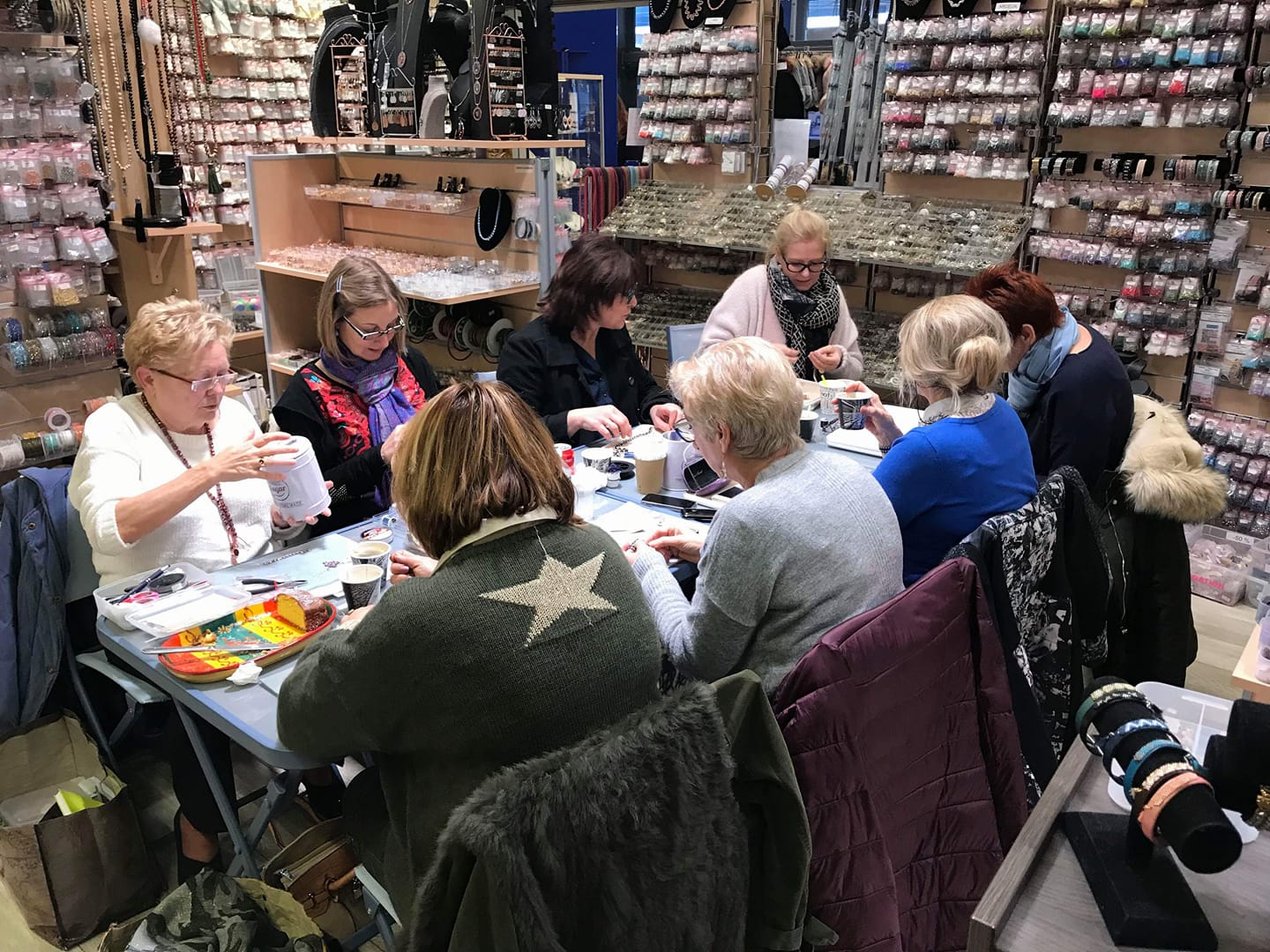 Learn how to make your own jewellry, and / or start to commerciallise your creativity.
Workshops are organised in limited groups.  That's the only way we can assure each participant the right assistance.
Inscription is required.
Inscription by telephone : 02/332 58 90 or Mail
Price : € 12 (material not included)
or subscription : 10 x  + 1 gratis = 100 €
 Do you want to be informated about or dates and events?
send an email to  : eric@boutiquecharlotte.be
And there is also Café Perlé.
Every saturday from 13h to 17h.
We organise this event 'Café Perlé' to offer you a creative space and moment where you can bead together with other
creative artists.
Coffee and biscuits are offered during this afternoon.  No inscription in advance needed.  Just pop in.
Then what is the difference with a regular workshop?
First of all, it's FREE.
Wij zijn er om indien mogelijk, wat uitleg te verschaffen, doch aangezien dit tijdens de gewone zaterdagnamiddag drukte is, kunnen wij niet garanderen dat er continue iemand van onze medewerkers "stand-by" is.
Due to the CoronaVirus we do not organise Workshops or Café Perlé meetings during
the months of March and April.
| | | | | | | |
| --- | --- | --- | --- | --- | --- | --- |
| Maandag - Lundi | Dinsdag - Mardi | Woensdag - Mercredi | Donderdag - Jeudi | Vrijdag - Vendredi | Zaterdag - Samedi | Zondag - Dimanche |
| | | | | | | 1 |
| 2 | 3 | 4 | 5 | 6 | 7 | 8 |
| 9 | 10 | 11 | 12 | 13 | 14 | 15 |
| 16 | 17 | 18 | 19 | 20 | 21 | 22 |
| 23 | 24 | 25 | 26 | 27 | 28 | 29 |
| 30 | 31 | | | | | |